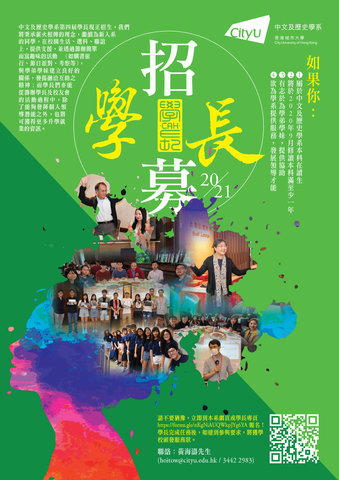 The Department of Chinese and History strives to devote our effort in accordance with the mission of the City University of Hong Kong, offering a peer mentoring program known as Student Mentoring Scheme (SMS) for all students to join.
Recruitment for Student Mentoring Scheme (SMS) has already started. Students who aspire to serve as a mentor are welcome to join our family!
Mentoring will be conducted through face-to-face meeting and e-mentoring in order to provide academic and personal support for the mentees. Our Student Mentoring Team will organize various activities including mentors-mentees meeting, booster camp, book hunting as well as a Thanksgiving party, with the participation of both academic staff and students.
Our scheme aims to:
create a family-like atmosphere for all CAH students.
build up mutual-friendly and supportive relationships among the senior and junior students.
enhance a strong sense of belonging to the Department of Chinese and History and CityU.
Being a Student Mentee
All students in their second year are welcome to become student mentees. The mentees will receive practical advice, encouragement and support from their senior mentors. They can also:
make new friends from different year groups;
develop confidence and self-motivation;
enhance their communication and interpersonal skills;
strengthen their coping skills to overcome academic and personal problems.
Being a Student Mentor
All reliable, enthusiastic, responsible senior students (from Year 3-4) are encouraged to become student mentors. The mentors not only can take this opportunity to provide assistance and guidance for their fellow students, but they can also:
enhance their communication and interpersonal skills;
develop leadership, management and organizational talents;
boost self-esteem and confidence;
gain valuable experiences for their future career;
expand their social circles.
Your participation will be valuable and appreciated. Don't hesitate, join us!
Enquiry: cah@cityu.edu.hk